CREATING BEAUTIFUL SMILES WITH
Cosmetic Dentist in Cedar Park, TX
At Town Center Dental Cedar Park, we can assist you with all your cosmetic dental needs. Your smile shouldn't hold you back or keep you from feeling your best. When you need to correct issues of gapping, crooked teeth, or misshaped teeth, you can turn to us for the treatment you deserve. We offer several services that can get your smile looking fabulous in no time.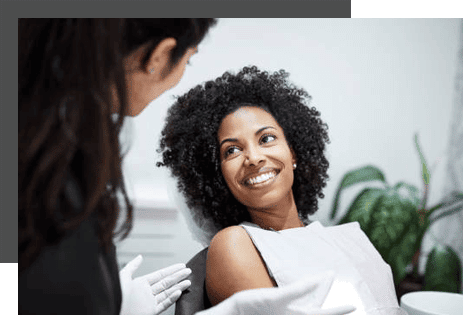 What is the Cosmetic Dentistry?
Cosmetic dentistry focuses on treating issues that affect the way your teeth and smile look. Common concerns in this area include:
Often, these procedures can help to correct the aesthetics of your smile in addition to correcting some issues that affect overall oral health. We can provide you with teeth whitening, tooth-colored fillings for cavities, crown, bridges, bonding, porcelain veneers, braces, and even dental implants.
Dental Implants Near You in Cedar Park
What are dental implants? They are basically dental prosthetics. They look and act like teeth and are a better, more attractive alternative to dentures. The implants are installed directly into your jaw, which helps to keep them anchored firmly and prevents issues associated with tooth loss.
They are secured using artificial roots during a surgical procedure. The top portion of the tooth is made with the high-quality materials used for crowns and bridges. It will look just like a natural tooth, and you won't have to worry about taking it out to clean it.
Invisalign braces in Cedar Park, TX
Many people deal with crooked teeth and require braces to align the teeth in their proper place. However, braces are often uncomfortable, not visually pleasing, and can almost make you feel worse about your smile while you're wearing them. That's why we offer Invisalign®.
These clear braces can't be seen when you wear them and can still be used to correct significant issues, such as overcrowding and misaligned teeth. The non-metal retainers are changed every two weeks and gradually move your teeth into the right place. Plus, the aligners are made using special 3D imaging which makes them much more comfortable than traditional braces.
Schedule a visit today with Town Center Dental Cedar Park to discuss what cosmetic dentist can do for you.
Welcome To Our Dental Family
Town Center Dental Cedar Park is accepting new patients of all ages. Call today to schedule an appointment. We offer a full suite of services, including breathtaking, customized smile makeovers.
REAL PATIENTS REAL RESULTS